40% of Small Business Owners Say Accounting is the Worst Part of Owning a Business
Don't get behind on the small business accounting tasks you need to perform to stay on top of your business finances.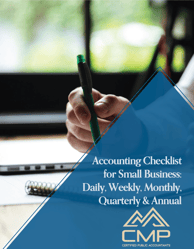 As a business owner, you know there are many advantages to owning your own business. From potential financial freedom, as well as more time to yourself.
However, if you don't have an accounting or financial background, you may be more susceptible to unknowingly putting your business at risk.
Use our Accounting Checklist for Small Businesses to learn helpful tips on keeping your business financials on track on a daily, weekly, monthly, quarterly, and annual basis.